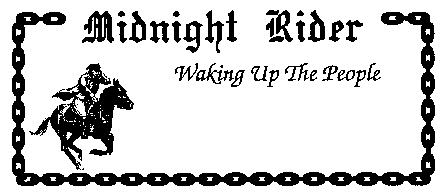 Mar-Apr, Year of Our Lord, 1994
Number 942
What's Inside
---
A small boy, repeating the Lord's Prayer one evening prayed:
"And forgive us our debts as we forgive those who are dead against us."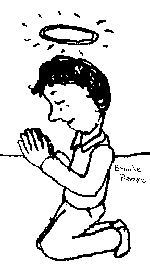 Praise God. The Holy War is raging in our local area. Since January 6th of this year, I have been stopped by the police four times and spent 11 continuous days in jail. That's more police stops in the last couple months than in all the seven years I've been traveling under Heaven's authority.
On February 7th, I was hauled to jail and kicked out on February 18th. Less than a month later on March 15th, Abraham, one of our Embassy staff members, was arrested and held in jail for five days. They have been working overtime to capture us by setting up surveillance teams and using unmarked police cars.
One reason for the increased police activity is because the Embassy of Heaven has been receiving favorable media coverage over the past year. Our latest exposure was on April 16th. National TV featured the Embassy of Heaven on "America's Most Wanted" program. I have not seen the program yet, so I cannot comment.
The State is using our lack of State licenses to make us look evil. They refuse to acknowledge that we are already licensed by the highest authority. By ignoring the foundation for our actions, they are hoping to remove Christ's intent and replace it with State intent.
No doubt they are hoping all this harassment will wear us down and cause us to quit the race or compromise. But by His grace and His strength, we will continue the race and not bow down to their demands. Just because the bullies beat us up, does not mean we are wrong. I believe stronger than ever that God has given us Truth and Liberty. These men are seeking to shut us down, lest the whole world be set free. May His Kingdom come.
We have added 45 more pages to our new book, GOING TO JAIL, which goes into detail about our latest jail experiences. The case study includes dialog with the jailers when they did not obtain fingerprints, what happened in court, an interview with the mental health representative, and various tips about fasting in a cold, solitary jail cell.
For which cause we faint not; but though our outward man perish, yet the inward man is renewed day by day. For our light affliction, which is but for a moment, worketh for us a far more exceeding and eternal weight of glory; while we look not at the things which are seen, but at the things which are not seen: for the things which are seen are temporal; but the things which are not seen are eternal
(2 Corinthians 4:16-18).
Paul Revere, Pastor
March 16th, Year of our Lord, 1994
Michael Healy, Chief of Police
City of Stayton - 362 N 3rd
Stayton, Oregon 97383
Re: Embassy of Heaven Ambassadors arrested while preaching the Gospel on the highways in the Kingdom of Heaven
Greetings from the Kingdom of Heaven. May the Grace and Peace of our Lord Jesus Christ be with you.
On January 6th, February 7th and March 15th, 1994, your officers arrested and jailed our ambassadors while they were performing their God-given duties.
Have you ever considered the outcome if you are successful in your attempt to prevent us from preaching the Gospel? Let's assume that your officers are so zealous that they succeed in arresting us and confiscating our Church vehicles every time we travel upon the Kingdom of Heaven highways. Let's assume that all further evangelizing through the mails is stopped because it is impossible for us to travel safely to the post office. Not only do you stop the evangelizing, you literally starve us out of existence because we are unable to purchase food and supplies without your officers apprehending us.
Let's also assume you have the full support of the taxpayers to incur whatever costs are necessary to shut down the Church. Let's say you wipe out the local Church. Then you continue to assist in rounding up 100 percent of all our ambassadors throughout the land and throwing them all in jail. You confiscate all the Heaven Driver Licenses and Heaven license plates that have ever been issued. The Church record system is totally destroyed.
Let's further assume that those of us whose convictions remain strong are thrown in prison for the rest of our lives and no one ever hears about the Embassy of Heaven again.
When all of this is said and done, I thank God that I am on His side, even though my obedience to His commands costs me my life. You, on the other hand, are going to have to face my Father in Heaven and answer for why you killed the prophets. You, as a principal, are responsible not only for the actions done with your own hands, but also for the actions of those under your charge. How will you account for persecuting Christ's little ones?
It is not too late. Repentance is only a thought away. We are praying for your salvation and that you, also, will obey the One who gave you life.
In the authority of Jesus Christ,
Embassy of Heaven
Paul Revere, Pastor
Intent Establishes Jurisdiction
written by Paul Revere while in "the hole"
Many truths have been revealed to me while being in jail. I wish I had more paper to write them down. Here is more information on the word, "person," as used in State statutes.
Who, specifically, is included in the subset of "persons"? Does it include everyone on earth, or only residents, or even a special group? It turns out that it depends on who wrote the law and what elements are in the statute. As an example, if a rule stated that all "persons" must be up in the morning at 6:00 a.m., then the "persons" affected would only be those under the control of the rule-maker. Does this mean only residents? No. Even guests would be affected if they came into the control area of the rule-maker. Foreigners could come under the jurisdiction of the rule-maker. This means a citizen of Heaven could come under the jurisdiction of a world authority.
What if the State makes a statute that says all "persons" must have a driver license to use the highways of this State. Normally, only State residents would be required to obtain a State driver license because they have made the lawmakers their god. Could the State's jurisdiction also include other States' residents? Yes, depending on how aggressive that State wants to be. This is done by compacts and agreements with other States.
How about requiring a driver license for those who are not a resident with any State, such as citizens of Heaven? Yes. The reason is that the State claims the highways as their own and grants privileges to whomever they choose. Therefore, anyone who uses the highways in the State must have a driver license from a recognized State. This means jurisdiction includes everyone in the universe that wants to use the highways in the State.
Paramount Claim to Highways
Traveling without the State's permission looks hopeless, but not all bases have been covered. Remember that the State "claims" the highways in the State and grants permission to use them. Where does the State get the right to "claim" the highways? By the simple statement that the highways are needed for State purpose.
Let's take a short diversion. Two thousand years ago, Jesus Christ established a Kingdom of Heaven by being crucified. After His resurrection, He commanded that His followers, "Go to all nations." This great commandment established the highways in the Kingdom of Heaven. Jesus Christ claimed all highways and byways. Even the paths leading to everyone's doorstep became highways in the Kingdom of Heaven. How did Jesus get the right to "claim" the highways? By the simple statement that the highways were needed for His purpose.
The States came into existence about 1800 years after Christ's Kingdom and also made claim over the highways. Does the State's claim overrule Christ's claim? No. The State cannot undo what Christ did. What does this mean? It means that there are two jurisdictions over the same highways. Actually, there are many jurisdictions over the same highways. The United States of America claims the highways as post roads for the purpose of moving the mail. The military claims the highways for the purpose of protecting the people through the use of violence.
Purpose Separates Jurisdictions
Is there a conflict between the jurisdictions? Sometimes, yes, sometimes, no. There might be a few squabbles, but most of those struggles have been resolved. How does one know which highway he is on? It is quite simple. Even though the highways have the same street names in all jurisdictions, they are discerned by the intended purpose of travel. All highways are established by "intent."
The purpose or intent of traveling down a highway establishes who is god over that highway. Even though the facts look identical, the purpose separates the jurisdictions. Scripture talks about this in several places. Two houses look the same, but have different foundations. Two women are at a millstone; one taken, the other one left. Two men are in the same field; one taken, the other one left. The difference between all these situations is the foundation or intent. Two people can be doing exactly the same thing and using exactly the same space and be under two different jurisdictions.
One man can drive down the highway and be under the State motor vehicle code and its regulations. Another man can drive down the same highway without those burdens. The second man is using the highways for the paramount claim of taking the Gospel to all nations. He is only subject to the light burdens of Jesus Christ. The State is trespassing if it tries to hamper the free travel of this man. The State cannot, without trespass; stop, detain, cite, arrest, imprison, or hear actions against such a man. If this man is stopped by an officer of the State, his only obligation is to state his purpose of travel in order to establish that he is using the highways of the Kingdom of Heaven. The State officer must then desist from taking action against him. Otherwise, the officer is trespassing on Christ.
A declared intent would be something like, "I am an Ambassador of Jesus Christ of the Kingdom of Heaven and I am using the highways in the Kingdom of Heaven in obedience to the Great Commission. You are trespassing if you interfere with my duties and you have no jurisdiction on the highways in the Kingdom of Heaven."
Struggle over use of highways
Jurisdiction is established by intent. Allegiance is one of those ways to establish intent. Signing contracts is another way to establish intent. When we are baptized into the Kingdom of Heaven, we have declared our intent and at that point the past is a bucket of ashes. Everything we do from that point on is building on Christ's foundation. In the Spirit realm, intent is the foundation that actions are built upon. The State cannot grant a privilege to use the highways in the Kingdom of Heaven. They did not establish that foundation, therefore it is not theirs to manipulate. The State must convince us that we are using the highways in their State in order to manipulate our use of the highways. As long as we remain steadfast in Christ's Kingdom and stay on His highways, the State is barred from intervening with our use of the highways. Our struggle is not over citizenship, but over the use of the highways. The State might be able to use the police powers to regulate the highways in the State, but they have no right to interfere with the free travel on the highways in the Kingdom of Heaven.
I hope all is well. Through my suffering, maybe we can reestablish the Kingdom of Heaven for future generations. May Jesus be glorified in all these writings.
In Jesus' Name we pray,
Paul Revere, Pastor
Most assuredly, I say to you, he who hears My word and believes in Him who sent Me has everlasting life, and shall not come into judgment, but has passed from death into life.
John 5:24
Today we remember Richard Duffy who died at home of a massive coronary on February 18, Year of our Lord, 1994. He was 46. He leaves behind his wife Marti and his four children, ages 4 months to 10 years old.
Richard Duffy was coming out of the system and being translated into the Kingdom of Heaven. His widow, Marti, said his whole life had been changed after he started reading Embassy of Heaven literature. He paid off his financial debts and was ready to become an ambassador. Around town he was known as the Plant Doctor. He had his own independent business watering and caring for green plants and became an expert at diagnosing plants that were diseased. Friends and family will continue his work. His widow thanked us for being there. "My husband is alive today, even though the Father has taken him, because of the Embassy of Heaven." She said every time her husband would come to her with a further understanding, she would quiver inside and say, "Oh my, what more do we have to give up?"
Marti continues to follow her husband all the way to this hour. She said, "I pray that you continue to send us tapes and literature and we will continue to support the ministry because I know this is what he would want."
It breaks my heart to know that on the same day that I was being released from the Marion County Jail, Richard Duffy was in cardiac arrest and died. I was being released from jail at the same moment God was releasing Richard from this earth.
Marti Duffy is truly a widow in need. Please pray for her and her children, Carrie, Andrew, Carla and Liagael. If you can help with cash gifts, it would be appreciated. Please don't send checks since the family has no bank account.
If you would like to offer words of comfort to Richard's family, please write them at:
The Duffeys; c/o 3933 Beechwood Ln.; Dallas, Texas 75220

"In the loss of parents, husbands, wives, children, relatives and friends, God is drawing us to find in Christ our satisfaction. God deprives us of these relationships in order that we might accept Christ as Lord and let Him have the preeminence in our lives. It is not because God desires to illtreat us but because He wants us to take Christ as our Lord. It is more precious to shed tears before the Lord than to be joyful before men. What we find in the Lord is that which we would not find in parents, wives, and children. In the realm of creation, God's dealing with believers is for the one reason of giving His Son the preeminence in all things. By offering Isaac, we gain Isaac. God will not allow us to have anything outside of His Son."
Watchman Nee
Pastor refuses to render unto Caesar that which is his
Paul Revere of the Embassy of Heaven Church maintains that the State has no authority in the Kingdom of Heaven
The Oregonian, Portland, Oregon, March 4, 1994
By Cheryl Martinis
SALEM - The way the State sees it, Pastor Paul Revere of the Embassy of Heaven Church was driving without a valid license.
From behind the steering wheel, Revere sees it as the State trespassing on his Kingdom of Heaven. Revere said he was ready to die to prove his point.
He is so tied to his doctrine that Revere fasted 11 days in the Marion County jail last month rather than submit to State authority.
Jailers let the preacher go after they started to worry about his health, especially when a county mental health official told Revere that he was unable to distinguish between Heaven and Earth.
Revere preaches that "Heaven is a present reality." He views the Kingdom of Heaven as a government akin to Oregon. "I'm one of His bureaucrats."
The doctrine has gotten believers into trouble before - most often on the highways. The church built on a rural compound in Sublimity east of Salem issues its own driver's licenses and "Heaven" plates.
But Revere's stop in January - at Church and Pine streets in Sublimity - was a first for him. He said he told the officer: "I am an Ambassador for Jesus Christ of the Kingdom of Heaven. I use the highways in the Kingdom of Heaven and you are trespassing."
Revere has a March 9 trial date on charges of failing to display a driver's license and of failing to appear for a court date on the charge.
He doesn't plan to show up and vows to die rather than submit to State authority.
"We're talking about a failure to carry a State document," he said by telephone. "I don't need to have a State piece of paper. . . . I'm not going to modify my behavior. I'm ready to go to Heaven."
When he was taken to jail Feb. 7 after failing to appear on the traffic charge, he clenched his fingers so jailers could not get fingerprints. He also declined to voluntarily put on the blue, jail-issue shirt and pants so a handful of officers undressed, showered and dressed him.
Revere spent much of his time alone in a cell in the segregation unit. He calls it "the hole."
Lt. Bill Putnam said he was put there both because he resisted procedures and because officials worried that his preaching might irritate other inmates who might attack him.
Meanwhile, the church sent the jail a Feb. 12 letter with "Greetings from the Kingdom of Heaven."
"Rejoice," it read, "and be exceedingly glad for the Kingdom of Heaven has come unto you."
Revere drank only water for the 11 days and was moved to the medical unit for part of his stay. He was released Feb. 18, even though he refused to promise to show up for his March 9 trial.
In addition to the traffic ticket, Revere contends he is being "truly persecuted" over his name. The court records call him "Paul De Revoire," although Revere said he has used the name "Paul Revere" for nine years and that is his lawful name.
Since his release, Revere wrote a District Court judge a letter saying it is not a higher authority, "over me or my government of the Kingdom of Heaven. . . . My only obligation to you is to love you."
---
Embassy of Heaven pastor fails to show up in court
The Oregonian, March 10, 1994
SALEM - Pastor Paul Revere of the Embassy of Heaven Church failed to show up Wednesday for a Marion County District Court trial date, and a warrant was issued for his arrest.
Revere earlier had said that he wouldn't show up for his court date. He faces charges of failing to display a driver's license and failure to appear for a court date on that charge.
He initially was stopped in January in Sublimity and charged with failing to display a driver's license. The church in Sublimity issues its own driver's license and "Heaven" plates and doesn't recognize the court's authority.
When he failed to appear in court on the traffic charge he was put in the Marion County Jail where he fasted for 11 days before his release.
---
This small news clip went out on the A.P. wire and we received calls from people who had heard it on the radio from as far away as Illinois and Texas. One man from Illinois commented, "Lots of people in this battle have an arrest warrant out on them. Why is Paul Revere getting national coverage on a minor traffic offense?"
---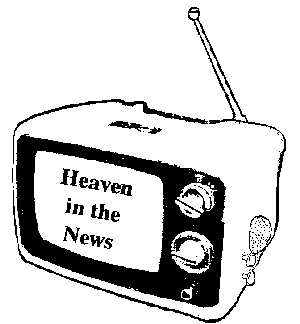 KVAL-TV Channel 13, Eugene, Oregon, March 14, 1994
| | |
| --- | --- |
| KVAL | A Sublimity pastor, based on his religious beliefs, will continue to follow the only laws he believes in, the laws of God. Paul Revere is back on the road that leads to and from his Embassy of Heaven Church near Sublimity. Five weeks ago Revere spent time in the Marion County jail for failure to appear on a traffic charge. The pastor and his followers reject all laws of the government and say they follow only the laws of Jesus Christ. |
| Paul | I am Paul Revere. I am pastor of the Embassy of Heaven Church. Embassy of Heaven is a corporation of the Kingdom of Heaven. It is the government of our Lord Jesus Christ. Our law of the land, the Supreme Law of the Land, is the Golden Rule. And all the laws and all the prophets hang thereon. |
| KVAL | Revere's Church issues its own driver's license under the authority of the Kingdom of Heaven, and issues its own Heaven license plates. The pastor says Heaven is a present reality and views the Kingdom of Heaven as the only government he will obey. |
---
This story makes no mention of the State's side. The day after this news clip was televised, Stayton Police set up a sting operation to arrest me and mistakenly captured Abraham. P.R.
Date of Arrest: March 15, 1994
Ambassador: Abraham
Mission field: Oregon
Less than a month after Paul Revere was released from Marion County Jail, I was stopped in Sublimity by the Stayton Chief of Police, who was driving an unmarked car. Later I learned from the police radio communications that they had set up an undercover operation to catch Paul Revere, but they had apparently caught the wrong fish.
When I arrived at the county jail, the first words out of my mouth were, "You are not my shepherd." The guard responded by making the sign of the cross. I told him, "You are mocking Christ."
When the jailers tried to remove my clothes I said, "This is Christ's covering. I will not remove it voluntarily. You are not my shepherd." Then they marched me over to a holding cell and removed my belt, coat and shoes. They locked the door and left me sitting on the floor. Later, more guards came for me and told me to get up. "You are not my shepherd," I repeated. They grabbed my arms and lifted me onto my feet. Out of love for my neighbor, I decided to walk with them. I was wrestling between "loving my neighbor," and "not obeying strangers." One of the guards commented, "It is not of God to resist." About 30 seconds later I remembered the Scripture, "Resist the devil and he will flee from you." I finally realized if my neighbor is working for Satan, it is my duty to resist him.
They asked me for fingerprints and I clenched my fingers together, drawing them into my body. "These are Christ's property." The guards dropped the matter and never asked for prints again.
Four guards and the jail superintendent came into the holding cell and forced a smock and handcuffs on me. The smock was sleeveless, with a Velcro closing in the back. It was crazy looking, almost like a straight jacket.
They marched me down to a solitary cell in the section called, "the hole," and removed the handcuffs. I immediately took off the Velcro smock and sat naked on the bed. One of the inmates commented to me later, "I saw you coming in last night wearing a dress!"
When I first arrived at "the hole," the man in the cell next to me was kicking his door and screaming. I thought, "Oh no! they are putting me next to an absolute maniac." But my first impressions were wrong. When this inmate found out that they had kidnapped me off the Kingdom of Heaven highways, he stopped swearing at the guards and started singing, "Onward Christians Soldiers" - all four verses. This inmate was great because he was so alive. I liked him because he acted the way a man should act when he is put in a cage - he should act like an animal. He was such a funny contrast. One moment he would be shouting obscenities at the guards, and the next moment he would be singing, "My Sheep Know My Voice," which became my theme song.
On the second day, a lady came with a guard to read me some legal papers. I am sitting there naked on the bed as she starts to read. "I can't hear you!" I interrupt. She does not understand that I cannot hear her because I only hear my Shepherd. She thinks her voice is unable to penetrate the jail door so she has the guard open the door and she continues reading. I keep repeating, "I cannot hear you. You are not my Shepherd." Finally, she can no longer read from her clipboard, she is so frustrated. She walks off in a huff. The male guard thought I was baiting her to come into the cell by claiming not to hear her. He left with a big smile on his face, as if he enjoyed the whole scene.
Along with not wearing their jail clothes, I also was not eating their food. I had lots of vivid visions of food. I never imagined eating healthy foods likes fruits and vegetables. I imagined pizza and chicken and steak and hamburger. One guard said, "Is this how you serve your God? What kind of God do you serve that you would fast?" I asked, "What kind of God do you serve that you throw men in cages?"
They tried to persuade me to put on the jail clothes to go to court. Because I refused, I never saw a judge. If they had hauled me to court, I would have turned my back to the judge and immediately started entering my pleas to my Father in Heaven. I am to face my Maker. Since God is my Maker, I would face Him, not some black-robed judge.
The night before I was released, the jail superintendent visited. He said, "I hate to see you sitting in the hole for infractions." I laid out the Gospel and said we are in the same position as the Christians in first century Rome. We are not a recognized State religion. "I am not here to cause you trouble, but you have to realize that you are not my shepherd and I am under an entirely different chain of command than you are. For me to put on your clothes or voluntarily stand before your judges would be total hypocrisy for me."
He seemed to understand and he looked like tears were filling his eyes. As he was leaving I said, "If it is a crime to be Abraham, I am guilty. If it is a crime to live in the Kingdom of Heaven, then I am guilty. If it is a crime to drive on the highways of the Kingdom of Heaven under the Great Commission, I am guilty."
The next morning they decided to dress me in the Velcro smock and take me to the checkout counter. The release officer started reading to me. "I cannot hear you. You are not my shepherd," I said.
The officer was infuriated and pulled off the Velcro robe and ordered me over to the shower area. He threw my clothes on the floor as he swore at me. I put on my clothes and as I was leaving, he apologized. I offered my hand, "No hard feelings. I realize that people like me can be very frustrating to you. But you have to realize that I am only accountable to my chain of command. I have nothing against you."
The officer said, "Well, right now my chain of command is a lot bigger than your chain of command. Someday maybe your chain of command will be bigger than mine, but right now mine is bigger." At least he acknowledged that maybe someday the Kingdom of Heaven would fill all the earth.
I was out on the street less than five days after being arrested. I never wore their jail uniform. They never took my fingerprints or gave me a shower. They never brought me before a judge. I never asked them for anything - no telephone calls, pencils, paper, or mail. They let me out on the street after I told them I would not show up for court. This is ironic because they arrested me because of an outstanding warrant for failing to appear for a prior court date.
My jail theme was, "Christ is my Shepherd. His sheep do not hear the voice of strangers. They hear His voice and obey."
Dan Gibson, a minister of the gospel, and the author of "Peace Officer vs. Law Enforcement Officer," (Newsletter # 893-3) is currently in federal prison.
3-2-1994
Dear Family and Friends,
Greetings in the name of Jesus our Lord. For weeks turned into months we waited daily for word of my release and I waited to write until I could give you that glad news. But I am still in bonds.
In looking back, I have been in a hurry all my life, working long hours, burning the candle at both ends. Here in prison, I have experienced the wonderful peace which comes as we learn to wait on the Lord. He has given me a great thirst for His word. Sometimes I spend days in a single chapter, as the Holy Spirit opens my eyes to its message of comfort, wisdom, correction and present duty. I have written over 600 pages of notes on dozens of topics and am working on several books. My wife Deb and I have come to understand this time as a period of preparation. God is perfect in His fatherhood. He does (or allows) all things for our good. He comforts and blesses those who wait on Him. Therefore, when we pout over our circumstances we, in effect, accuse Him of child neglect.
A brother came to see me this morning. He wanted me to pray that he would get out of prison early. He reasoned that if he were at home he could join a great church fellowship and have quiet time to "get close to the Lord."
There are no external conditions keeping us from a close, personal, joy-filled relationship with God. Not jail, not sickness, not that unfaithful spouse, the bad job, the too small house - nothing (Romans 8:38-39). Sometimes we play games with Him saying; "If You will do this or that, I will serve you and be happy." But the external things - the things of the flesh are truly immaterial. Men here talk about the happiness they will have when they get out of prison. How sad, to live in a lie. A teacher on Christian radio once said that God has called Himself "I AM." He said there is great significance in that name. He is not "I WAS" or "I WILL BE," He is "I AM." He lives a timeless existence, always in the here and now. He doesn't want to draw close to us tomorrow, but now. He's not lax to bless His children, we simply refuse to submit to Him. If we're waiting on Him to change, we'll have quite a wait. No jail or other circumstance can prevent His love from enveloping and penetrating us, only our resistance.
I told my friend that if he was not where God wanted him then God is not God, not sovereign. I asked him if God hadn't broken down prison walls and opened locked doors before. And, if so, can He do so today? He agreed that He could. Then, I said, if God is sovereign and you are here, then you are right at this very instant, exactly where God wants you and where He wants to fellowship with you. Anyplace else we could wish to be at this moment is not an improvement. Our job is to live in the now, walk in His peace, make Him known to others and trust that He knows exactly what is best for each of His children. To believe otherwise is either to believe in a false god who cannot or does not want to care for His children or to accuse the FATHER of being a poor parent, not caring for His children.
Many "comfortable" Christians never see that the Church today is as imbued with power, love and relevance as it was in the First Century. Afflictions don't destroy the Church, it displays her as a thing most beautiful. Let us not focus on the wicked and their deeds, nor fear men. It saddens me to see Christians shaking like Don Knotts over what Clinton or Reno might do. Let us fear God and declare His word. He knows how to lead His armies in the field and He has never lost a battle. Our battle is with our flesh, not Bill Clinton. We are called to be faithful and whether we are or not is the only question of significance.
In Christ,
Dan Gibson
If you would like to write to Dan or his wife, their addresses are:
Dan Gibson, 04264-031; LVC, B-1; P. O. Box 1000;
Leavenworth, KS 66048
Dan and Debbie Gibson; P. O. Box 155;
Rayville, Missouri 64084
WA-RoooH! RoooooH!!
ROOOooooooh. . .SCREE-EE-EE-EE-EECH!!!
The red and blue lights are flashing. The siren is squealing. Guess what? A police officer just pulled you over. You talk with him, you plead, you pray - you just about have a heart attack. But the ending result is no matter what you say, no matter what you do, this time, you're going to jail.
Once you're in jail, you're going to have to make a decision on many things - and you won't have time to think about it. All of a sudden the guard says, "We're taking your fingerprints." How are you going to respond? Or the release officer says, "Just sign this agreement and you can go home." What are you going to do when you are confronted with these situations? What about Medical Questionnaires? Wearing Jail Clothes? Body Searches? Bailing Out? Fasting? Psychiatric Exams? Getting the Media Involved? Overcoming Bullies?
We want to take you through a guided tour of jail so that it isn't a total surprise if it ever happens to you. We'll run you through multiple scenarios and show you your options. Put on your seat belt, because you're in for the ride of your life. Hopefully, with this information, a little bit of the fear and scare will be taken out of going to jail.
View our book, Going to Jail, online.
Tips for Comfortable Jail Stay
excerpt from Paul Revere's second letter from his solitary cell in "the hole"
The third day in jail was uneventful. Each guard addressed me by a false name and each time I corrected him. Meals were served three times a day and I did not eat any of them. The cell was cold and I stayed under the covers most of the time to keep warm. I had two blankets, two sheets and a very hard mattress. I already had sores on my hips and my back ached. As would be expected, I was hungry. It looked like the State was going to put me through the long test. I prayed that I would stand until the end and not give up my faith and allegiance to Jesus Christ and the Kingdom of Heaven.
The mattress was about five and a half feet long and hard as a rock. I am six feet long. There was no pillow and my feet always dangled over the edge. I had two sheets that were very thin and silky. They slipped all over the plastic-coated mattress, and I could not keep them stable. The two thin blankets were square, not rectangular, and they were only about five and a half feet long. To keep warm and to cushion the mattress, I would put down one blanket onto the bed and have it hang onto the floor. Then I would take the second blanket and do the same thing, except offset. This way I could cause some additional length. Then I would do the same with the sheets. I would bring the whole package off the floor and bring it up and around me like a sandwich. To keep the cold off my back, I would have to reach underneath myself, grab the blanket and pull it tight with my body on top of the other end.
I could not toss and turn. When I would start to cramp, I would have to make the whole blanket package again and sleep on my other side. I attempted to sleep on my back, but for some reason it gave me a horrible backache. Many times fasting will cause backaches because your organs are sitting on your spine. I literally had black and blue spots on both my hips. For a pillow, I attempted to use a folded towel. It made a lousy pillow.
My feet were always cold. I figured out a way to warm them. By holding the hot water button down a couple of minutes, the water would eventually warm up. I put one foot into the sink and placed the ball of my toe into the drain. My toe acted as a stopper to keep the water from draining out. It took about four or five minutes to fill the sink with warm water. I would let my foot soak until it turned red. When I was ready to warm up the other foot, I used a towel on the floor to dry the first foot and would put my other foot in the sink before the water ran out. I went back and forth until both feet were warm.
Another way to keep my feet warm was to take one foot and place it between the folded knee. It was probably the most successful way to keep my feet warm. I could not sleep when my feet were cold.
I was fighting a draft. There were two vents in this particular cell. One of them was pointing right at the bed and it poured out cold air. I could hear the noise of fans 24 hours a day. And the temperature was uniform. It was always that same cold temperature. I finally took the towel and placed it up on the vent so that it would keep the air from flowing over me.
When one of the guards came into the cell, he saw the towel over the vent. He yanked it down and said, "It's against the rules." He put it back on the wall rack. After he left, I took single sheets of toilet paper and folded them in halves until I had quarter-inch thick rectangles. The vent had slots of two columns of twenty rows and I put the folded toilet paper into one of those slots. It took awhile, but eventually all the slots were covered. The air flow was dramatically reduced. Cold, still air is much more comfortable than cold, breezy air.
I had a system to keep track of days. In the room was a short pencil, but no paper. I knew the date I came in. If I did not start keeping tabs immediately, I was going to lose track of the calendar. What I did was write S M U W H F S on the wall. I came in on Monday so I wrote the number 7 under the letter M. Each morning I wrote in the next number under the next day of the week. This enabled me to keep track of the calendar.
The guards provided me with a Styrofoam cup, toothbrush, toothpaste, and pencil. I would fill up the cup and then set it on the shelf. By waiting a couple of hours before drinking the water, most of the chlorine would dissipate.
You are only supposed to have one Styrofoam cup. They deliver a Styrofoam cup at breakfast and remove it at dinner. I broke the law. I had three at one time, till I got caught. They said, "You're not supposed to have all these cups. This is contraband." If it is not authorized to be in the jail, it is contraband. So at times the Styrofoam cup is lawful, at other times it is not lawful.
It is hard to stay with the Spirit. Fighting the flesh, the cold, and hard-hearted jailers makes you want to give up the battle. One night, I could not keep the blankets on. Every time I would turn, the cold would come under the covers. The mattress was rock hard and both of my hips were bruised. I could visibly see my bruises. I just quietly said, "Father, I know this is for a purpose. I know that I have to continue what is started. I know I do not have full understanding, but you know the secrets of my heart. I wish you would get me out of here."
I was so frustrated that I came close to a mental breakdown. What was even worse, was that I knew it could be worse. Do you know what happened after I said that little prayer to Him? I fell asleep. The next thing I knew it was morning. He took me through the night.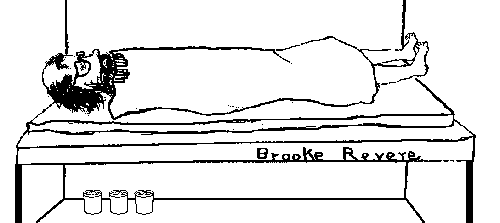 ---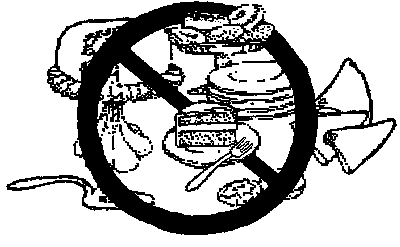 By Nancy Appleton
What signals is your body giving you? Are you a sugarholic? This quiz will help you determine how pervasive refined sugar is in your life-style, and what effect it's having on your body. Answer each question as truthfully as you can; you're not going to be graded, and no one is looking over your shoulder. Be honest with yourself - your health depends on it.
TRUE OR FALSE?
I don't eat refined sugar every day.
I can go for more than a day without eating some type of sugar-containing food.
I never have cravings for sugar, coffee, chocolate, peanut butter, or alcohol.
I've never hidden candy or other sweets around my home in order to find and eat them later.
I can stop after one piece of candy or one bite of pastry.
There are times when I have no sugar of any kind in my home.
I can go for three or more hours without eating and not experience the shakes, fatigue, perspiration, irritability, depressions, or anxiety.
I can have candy and other sweets in my home and not eat them.
I don't eat something sweet after every meal.
I rarely drink coffee and eat doughnuts or sweet rolls for breakfast.
I can go for more than an hour after waking up in the morning without eating.
I can go from one day to the next without drinking a soft drink.
If you answered "false" to more than four of these statements, chances are that you are sugar-sensitive. You probably are allergic to sugar, and probably are also addicted to it - the same way an alcoholic is addicted to alcohol. You crave sugar, have withdrawal symptoms when you don't get it, and probably feel better for a short time after you've eaten it. In eating sugar to feel better, you are actually making your condition worse.
If you answered "false" to four questions or fewer, that doesn't prove you don't have a problem with sugar. Perhaps you aren't addicted to it, but perhaps you don't quite realize just how much sugar you're eating. The average American consumes over 10 pounds of sugar each month, nearly 4-1/2 cups per week or 30 to 33 teaspoonfuls of sugar every day. That's over 20 percent of our daily caloric intake spent on a refined food which upsets body chemistry and has no nutritional value.
How You Feel Is up to You
My experience is a classic example of what I've called the "degenerative disease process." All my ailments were caused by the substances I put into my body. The excess sugar that I ate so obsessively led to a disturbance of mineral relationships in my system - leading to a calcium excess so severe that it built up in my chest. This mineral imbalance made my enzymes (those chemicals in the body that help digest food) incapable of digesting food properly, and I developed classic allergic symptoms due to the undigested food. My immune system wore itself down reacting to these toxic foods, and I became extremely susceptible to disease.
The process that started with the excess consumption of sugar ended in tooth decay, pneumonia, and bronchitis. It was mainly when I removed sugar from my diet that my body was able to regain health. I realized then, for the first time, that if I stopped doing to my body what I had done to make it sick, my body would heal itself.
If you're a sugarholic, as I was, your body is telling you quite bluntly that sugar is causing problems. Addiction is closely related to allergy; the body has become so accustomed to compensating for the presence of the allergenic substance that when the substance is removed, withdrawal symptoms occur. Your sugar cravings are a direct indication that sugar is at work destroying your immune system.
It is possible to feel better - and if you really want to, chances are that you can. It is up to you. You can make yourself sick by ingesting harmful substances or, by becoming aware of what serves your health and listening to your body's signals, you can stop upsetting the body and let the body heal itself.
If, on the other hand, you ignore the signals your body is sending, you force doctors to use stronger and more dangerous techniques, and relegate yourself to the victim role. Doctors are accustomed to treating conditions that have progressed to a point that there are serious complaints (severe pain, heart palpitations, swollen joints, or rapid weight loss). They see these drastic conditions and they take drastic measures.
From the book, LICK THE SUGAR HABIT by Nancy Appleton, copyright 1988, Avery Publishing Group Inc.