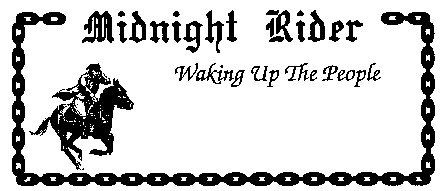 Sep-Oct, Year of Our Lord, 1994
Number 945
What's Inside
---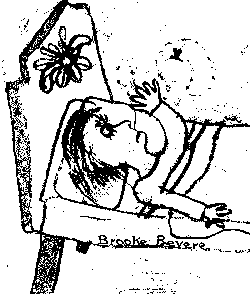 If you think you're too small to be effective, you have never been in bed with a mosquito!
Bette Reese
May the Kingdom of Heaven come unto you.
Our hearts and prayers go out to all who are suffering. Some are heartbroken because their spouses are being destroyed by alcohol abuse or drugs. Others are alone because their spouse will not live with them unless they obey the laws of the State. This is the bearing of the cross, to forsake wife and children, and even our own life, to be His disciple. We pray that as you cleanse yourself from all filthiness of the flesh and spirit, your spouse will see your holiness and be converted.
A woman who recently visited commented, "Your message does not appeal to me." She considers it too heavy a burden to separate from the kingdoms of this world. "Why don't you just promote loving Jesus?" she asked.
She thinks a loving God would not place any demands upon her. She wants to "love Jesus," without obeying Him. She is like a woman who says she loves her husband, but won't submit.
There are many who call themselves Christians who say they "love Jesus," but they do not take the responsibility of giving their allegiance to Him as their Lord. Their attitude is, "Smile, God loves you."
Yes, God loves us, but He wants us to repent and obey His commands, or we will be lost for eternity.
Our recent visitor does not want to give her allegiance to anyone. Yet, because the State threatens her with force and violence, she submits to the State and it becomes her god.
Too many people loyally serve the State and turn their relationship with God into a lofty romance, instead of a relationship that requires loyalty, allegiance and obedience. Salvation is more than saying, "I love Jesus." Salvation is a full relationship between us and God. "He is the Vine. We are the branches." (John 15:5) And that relationship is not just some romantic notion. It is a full commitment. We must love and obey God, and in loving God, love our neighbor. Then we will know God's love and protection. When we cry out to Him in our trials, He will hear us because we are His, not the world's.
There are millions who say they "love Jesus," but by their fruit, they owe true loyalty and allegiance to the State. Instead of holding fast to God's government, as superior to those of the States and nations, they submit to the heavy burdens of men's statutes. By uniting with the world and its traditions, they separate from the Source of their strength. Becoming friends of the world, they become the enemies of God. (James 4:4)
When our visitor looks at separating from the State, she sees only the giving up of comforts, possessions and friends, and the beginning of persecutions. Yet if she conforms to the State, what will be her end? Those who remain in Babylon share in her sins and shall receive of her plagues. (Revelation 18:4) Those who come out from among them and are separate are the ones our Father receives as His sons and daughters. (2 Corinthians 6:17-18) When she says she "loves Jesus," she has a form of Godliness, but she denies the power thereof. (2 Timothy 3:5) If she does not separate from the world, she will never have the Power to overcome the world.
Our visitor says it is no big deal if she has State licenses and insurance. She does not see the driver license as an act of allegiance to the State. It is just a nuisance. But that nuisance could cost her salvation.
When Jesus calls us, He calls us to die. Giving our allegiance to Jesus Christ involves dying to the things of this world and setting our heart on the heavenly things. But let us not focus on what we give up, but on what we gain.
Following Jesus and forsaking the world means being set at liberty. We are delivered from those who once held us captive against our will. We begin to see the Light, after having sat in darkness. In Jesus, our guilt and shame are removed and our broken hearts healed.
Finally, if we draw near to Jesus Christ, he draws near to us. Through Him, is the peace the world cannot give, eternal life and a river of living water. We need never be thirsty again.
Don't be a part-time Jesus lover. Give Him your all.
Paul Revere, Pastor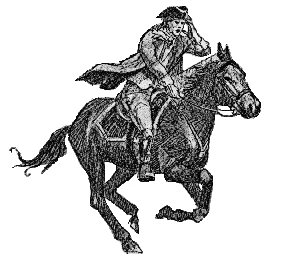 Wilderness Retreat
Do not forget Heaven's last retreat before winter.
The retreat begins informally on Thursday afternoon and ends Sunday afternoon. Simple, wholesome meals and campsites are provided. Donations are appreciated.
Mark your calendar and plan to fellowship with us in the woods. Call and ask for "RETREAT BROCHURE."
by Charlie Samples
What do you think would happen to you if you went around telling everyone that you had a different King than the rest of the world? What would happen to you if you told people that you were not subject to the same government that they were? Well, if all you did was talk about it, you'd probably be left alone. But what if you started living it? What if you lived your life as if you truly had another King?
I'm not talking about not smoking, drinking, cussing, and messing with women. I'm not talking about not going to movies, or dances. I'm talking about living under the Kingship and authority of no one but Christ! I'm talking about turning your back on this wicked, ungodly, Christ hating, Bible hating system that everyone participates in.
I'm talking about a real separation from the world's system and a walk under the Kingship of Christ. I'm talking about not entering into any covenants and agreements with a "foreign government" or any earthly government for that matter.
The one who has licenses, participates with social security, files 1040's and is in the good hands of Allstate is entangling himself with the affairs of this life in violation of II Timothy 2:4.
Living without those "entanglements" is not some lifestyle that is chosen out of the clear blue. It is because we have another King. Our King does not make those requirements of His subjects. Our King rewards the Laborer -- He doesn't tax him. Our King gives freedom to His subjects -- not restraint. Our King deals fairly and honestly with His subjects. Our King wants men to flourish because of the work of their hands. Our King wants His subjects to live without debt because He knows that the borrower is servant to the lender. (Proverbs 22:7) Conversely, the kingdoms of this world, encourage men to be in debt by giving them tax breaks and incentives for incurring debt and racking up interest.
While "Christians" are supposed to be walking in LIFE with Christ as their King, they are hopelessly bound and chained to this world's system. While they claim LIFE in Christ, they have MORTGAGES for their dwellings. Did anybody ever tell you what that word meant? Well, the prefix, mort means death and the combining word gage means pledge. So we have "Christians" living their lives with death pledges. That sure is walking in the Light, isn't it? Paul told those striving to live in the ways of the Kingdom to "Owe no man anything". . . . (Romans 13:8)
Conformity to the Kingdom of Christ means non-conformity to anything that would jeopardize your obedience and allegiance to your King. It means a change of government. You were following the systems of this world and its "non-governments," but now you have a relationship with the King of Kings and Lord of Lords and you will now walk in His Kingdom and walk in His ways. This is not popular